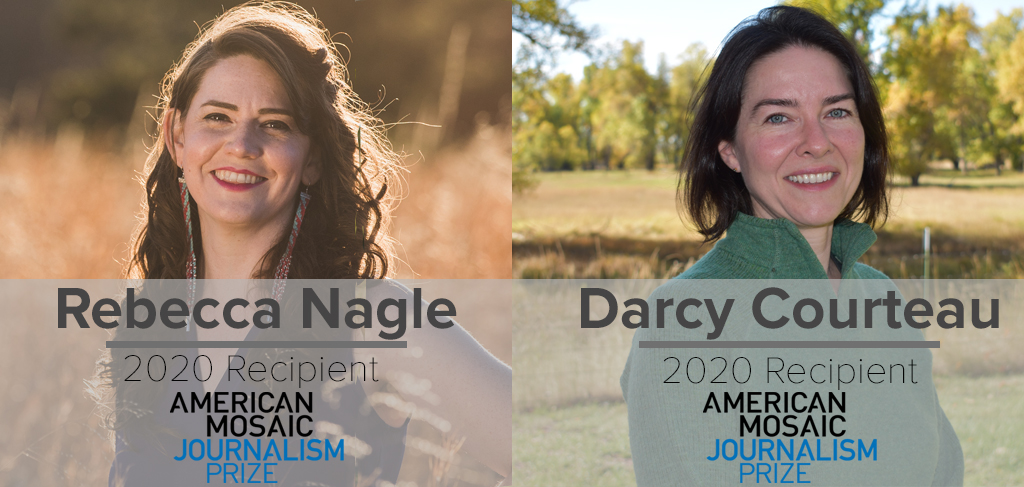 The Heising-Simons Foundation is pleased to announce the recipients of the 2020 American Mosaic Journalism Prize: Rebecca Nagle and Darcy Courteau.
The American Mosaic Journalism Prize consists of an unrestricted cash prize of $100,000 per recipient and is awarded to freelance journalists for excellence in long-form, narrative, or deep reporting about underrepresented and/or misrepresented groups in the American landscape.
The Foundation created the prize in 2018 as part of its work supporting journalism as an essential arm of U.S. democracy — recognizing journalism's critical ability to expose audiences to new perspectives and foster greater understanding.
The prize — a complete surprise to its recipients — is based on confidential nominations invited from leaders in journalism throughout the country. The recipients were selected by 10 esteemed judges who this year included journalists from the Washington Post, the Los Angeles Times, the Boston Globe, NPR, VICE News, the Oxford American, Columbia University, Arizona State University, and freelance journalism.
Ms. Nagle's journalism includes the podcast, "This Land," which explores Native American rights, and Ms. Courteau's journalism includes a June 2019 feature in The Atlantic, "Mireya's Third Crossing," about an undocumented immigrant's harrowing journeys across the U.S.-Mexico border.
We could not be more pleased with the judges' selection for the 2020 recipients.
"The fourth estate, or 'the fourth power,' as it is translated in many other countries, has been assailed in our country like at no other time in history," notes Board Chair Liz Simons. "At the same time, economic inequality is rising and underrepresented and misrepresented people need voice if we want to live in a society that recognizes our common humanity. Our Mosaic journalists, by immersing themselves in and sharing the lives and struggles of people, wield a shared power that benefits whole communities and enriches all of our lives. We are honored to support their work."
As the citations from the 2020 prize judges note:
"Rebecca Nagle's reporting employs deep investigations and an affecting, accessible voice to shine light on an overlooked and still-unfolding history. Her print and audio series about a current U.S. Supreme Court case concerning tribal sovereignty and the struggle for land in Oklahoma lucidly breaks down a complex and hugely consequential story that stands to change the lives of millions of people."
And, "Darcy Courteau's immersive reporting beams with authenticity and compassion, in particular as she relays a woman's traumatic attempts to immigrate to the United States and live with her U.S.-born husband and children. Ms. Courteau's commitment to following this story over time and by any means necessary results in an intricate narrative that is haunting, devastating, and deep in its humanity."
We invite you to visit the prize's webpage to learn more about Rebecca Nagle and Darcy Courteau, and explore their outstanding journalism.