High-quality math instruction aligned across pre-K and kindergarten can provide a significant boost to children from low-income families, and close the achievement gap with their higher-income peers, according to a new study published by education and social policy research organization MDRC.
The report evaluated an initiative by the Robin Hood Foundation that conducted two aligned interventions in New York City: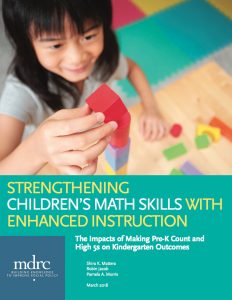 Making Pre-K Count, a program that offered a high-quality math curriculum (Building Blocks) for students, along with teacher professional development; and,
High 5s, a supplemental small-group "math club" provided to kindergartners outside of regular instructional time.
The programs were conducted in partnership with Bank Street College, RTI International, and the New York City Department of Education and Administration for Children's Services.
The Heising-Simons Foundation's Education program supported both the implementation and evaluation of Making Pre-K Count and High 5s. The Overdeck Family Foundation and the Richard W. Goldman Family Foundation also provided lead funding in support of this effort.
"Longitudinal studies of early childhood programs suggest that high-quality preschool experiences lay the foundation for lasting educational benefits," noted Barbara Chow, director of the Foundation's Education program. "The encouraging, statistically significant results from the Making Pre-K Count program and the High 5s supplement suggest a path forward to boost early math skills and, potentially, longer-term academic achievement of children from low-income families."
We invite you to access the full report here.