As more Americans become concerned about climate change, cities and states around the country are taking bold actions to reduce greenhouse gas emissions and transition to cleaner sources of energy.
This April, Pennsylvania became the 25th state to join the U.S Climate Alliance, a group of states committed to meeting the global Paris Agreement goals on climate change and reduce greenhouse gas emissions by at least 26 percent below 2005 levels by 2025.
Just in the past year, California, Colorado, Maine, Nevada, New Mexico, New York and Washington have all enacted new policies to transition 100 percent of their electricity supplies to carbon-free sources like solar, wind, or nuclear power by 2050. More than 100 cities and counties, as well as electric utilities serving states from Idaho to Michigan, have signed similar pledges.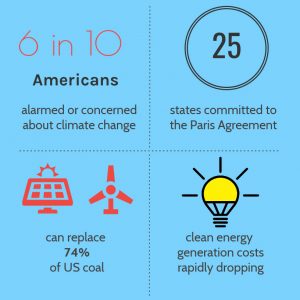 Why are we seeing so much progress now? Part of the reason is that local decision makers realize that climate change could result in significant costs to economic productivity and human health. Moreover, the rapidly falling costs of clean energy technologies like LED lights, wind, solar, and lithium-ion batteries over the past decade now make clean energy the cheapest way to meet electricity needs.
A recent report by Energy Innovation shows that much of the existing coal generation in this country could be replaced by local wind and solar at a savings to energy consumers. States like Colorado, New Mexico, and Montana are starting to embrace new financial tools to help utilities retire uneconomic coal plants early and refinance into cheaper, cleaner options. Some of these efforts also include important models to provide transition assistance to communities and workers most impacted by plant closures.
While more steps are needed to quickly achieve deep, long-term reductions in greenhouse gas emissions to support economic productivity and safeguard public health, it's wonderful and essential to see such inspiring climate leadership at the state and local level. The Heising-Simons Foundation remains committed to protecting people and the planet from the worse impacts of climate change and will continue to support both state and federal efforts to cut pollution and accelerate towards a clean energy future.